Romania Zone Accelerate Server ip / Samp / RZA ip / RZA Samp ip: samp.sasnet.eu
EN: Today July 20, 2013 passed by the server English version, what does that mean? The server will only be in English so she can play anyone in the world and understand something! The name remained the same but in English Romania Zone Accelerate!
RO: De azi 20 iulie 2013 serveru a trecut pe varianta in engleza!Ce inseamna asta ? Serverul va fi doar in limba engleza ca sa se poata juca oricine de pe glob si sa inteleaga ceva! Numele a ramas la fel Romania Zone Accelerate dar in engleza!
PENTRU A JUCA PE ACEST SERVER ESTE NEVOIE DE VERSIUNEA SAMP 0.3Z !!! DESCARCATI DE AICI
Server IP: samp.sasnet.eu:7777
PLAY NOW: Click Here
Hostname: Romania Zone Accelerate
Current Version: 0.3z
Server Map: Stunt Race Fun
Server Time: 00:00
Server Weather: 17
Download Game Here
Download SA-MP 0.3z + S0beit Hack Here
IP SERVER:

SAMP.SASNET.EU
How to play SA-MP?
1) Download game and unzip (with Winrar)
2) Install sa-mp-0.3z-R1-install in GTASA-Sasnet\San.Andreas
3) Run samp.exe from GTASA-Sasnet\San.Andreas


SasNet Presents:
Tutorial GTA San Andreas Multiplayer
Info:
Grand Theft Auto: San Andreas is a 2004 open world action-adventure video game developed by games developer Rockstar North in the United Kingdom and published by Rockstar Games. It is the third 3D game in the Grand Theft Auto video game franchise, the fifth original console release and eighth game overall. Originally released for the PlayStation 2 in October 2004,[3] the game has since been released for the Xbox and Microsoft Windows (PC) in June 2005, and has received wide acclaim and high sales figures on all three platforms. It is the best-selling game of all time on PlayStation 2. It was made available on Steam on January 4, 2008,[12] and on Intel-based Macs running a minimum of Mac OS X 10.6.6 in September 2011. Grand Theft Auto: San Andreas was succeeded byGrand Theft Auto: Liberty City Stories and was preceded by Grand Theft Auto: Vice City.
The game is set in the semi-fictional state of San Andreas, which contains three metropolitan cities: Los Santos, based on Los Angeles, San Fierro, based on San Francisco and Las Venturas, based on Las Vegas. Set in October 1992,[13] San Andreas revolves around the gang member Carl "CJ" Johnson returning home from Liberty City to Los Santos, San Andreas, after learning of his mother's murder. CJ finds his old friends and family in disarray. Over the course of the game, CJ gradually unravels the plot behind his mother's murder.
The high-level plot strongly resembles the LAPD Rampart scandal and the game even culminates with a spoof of the 1992 Los Angeles riots.
GTA San Andreas System Requirements
1 GHz Intel Pentium III or AMD Athlon Processor or better supported 256MB of RAM 8x DVD-ROM Drive 3.6 GB of free Hard Disk space for a minimal install 64MB Video Card with DirectX 9 compatible drivers ("GeForce3″) or better DirectX 9 compatible Stereo Sound Card Keyboard & Mouse
Other Requirements
1) Directx 9.0 c Aici
2) Netframework Aici
3) Visual c++ Aici
4) Winrar or 7zip Aici
5) Bittorrent Client Aici
Download the game here and put it in utorrent
Descarcati jocul de Aici si il puneti in utorrent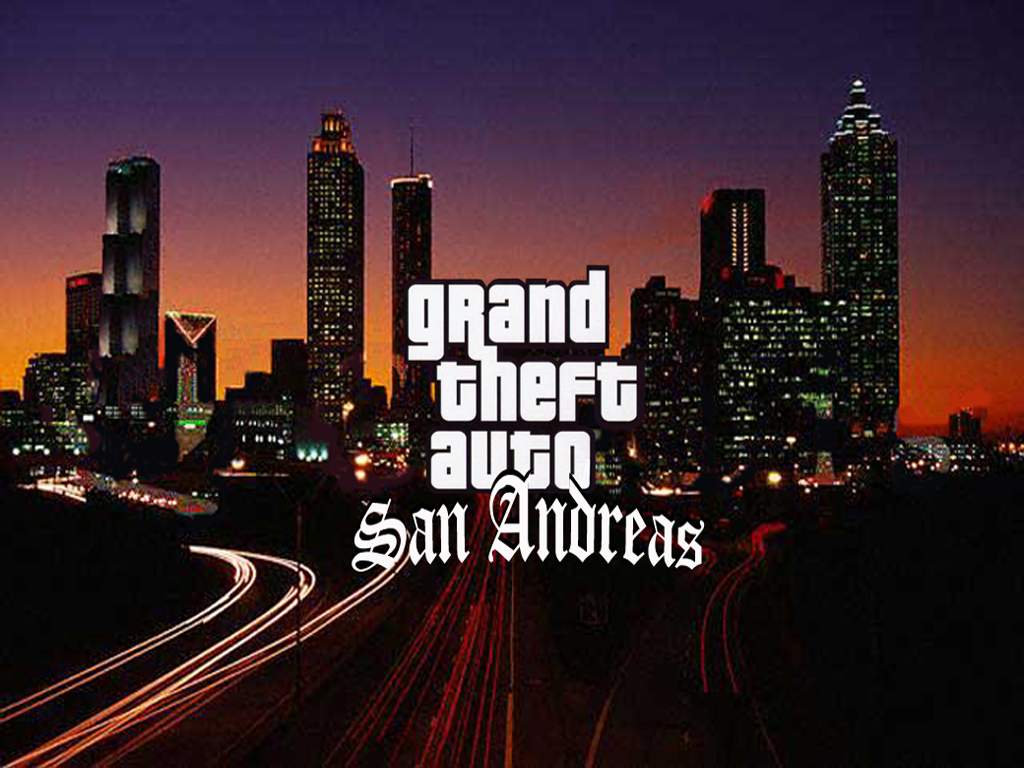 Installation
RO:
1) Dezarhivezi jocul cu Winrar sau 7zip
2) Instalezi SAMP 0.3X
3) Dublu click pe samp.exe si il duci unde este folderul cu jocul
4) Adaugam la favorite serverul ip: samp.sasnet.eu:7777
EN:
1) unzip the game with Winrar or 7zip
2) Install SAMP 0.3X
3) Double click on samp.exe and we go where the game folder
4) Add to favorite server ip: samp.sasnet.eu: 7777
DE:
1) Entpacken Sie das Spiel mit Winrar oder 7zip
2) Installieren SAMP 0.3X
3) Klicken Sie doppelt auf samp.exe und wir dorthin gehen, wo das Spiel Ordner
4) Zu Favoriten hinzufügen Server-IP: samp.sasnet.eu: 7777
IT:
1) decomprimere il gioco con Winrar o 7zip
2) Installare SAMP 0.3X
3) Fare doppio clic su samp.exe e andiamo dove la cartella di gioco
4) Aggiungere al ipdelserver preferito: samp.sasnet.eu: 7777
FR:
1) décompresser le jeu avec Winrar ou 7zip
2) Installez SAMP 0.3X
3) Double-cliquez sur samp.exe et nous allons là où le dossier du jeu
4) Ajouter à ip du serveur préféré: samp.sasnet.eu: 7777
ESP:
1) descomprimir el juego con Winrar o 7zip
2) Instale SAMP 0.3X
3) Haga doble clic en samp.exe y vamos en la carpeta del juego
4) Añadir a la ip del servidor favorito: samp.sasnet.eu: 7777
RU:
1) распаковать игру с Winrar или 7zip
2) Установить SAMP 0.3X
3) Дважды щелкните на samp.exe и мы туда, где в папку с игрой
4) Добавить в избранное IP сервера: samp.sasnet.eu: 7777
PT:
1) descompactar o jogo com o Winrar ou 7zip
2) Instale SAMP 0.3X
3) Clique duas vezes em samp.exe e vamos para onde pasta o jogo
4) Adicionar ao ip do servidor favorito: samp.sasnet.eu: 7777
Dutch:
1) unzip het spel met Winrar of 7zip
2) Installeer SAMP 0.3X
3) Dubbelklik op samp.exe en we gaan waar de game map
4) Toevoegen aan favoriete server ip: samp.sasnet.eu: 7777
CN:
1)解压缩用winrar或7zip的游戏
2)安装SAMP的游戏文件夹
3)双击samp.exe,我们去那里的游戏文件夹
4)添加到最喜爱的服务器的IP: samp.sasnet.eu:7777
Server info:
Server Name: Romania Zone Accelerate
Server ip: samp.sasnet.eu or ns3.sasnet.eu
Server info: 24/24 7/7
Server Location: Europe,Romania
Web: http://sasnet.eu/samp
Contact: admin@sasnet.eu
http://www.youtube.com/watch?v=apmpYeYJeFM
Click here to add this super server to favorites!
INFO: Server :
Version: 0.3z Ip Server: samp.sasnet.eu Download samp 0.3z: Aici
Commands:
/ARME,/WEAPONS,/B,/V,/GIVECASH,/SEX,/LOCK,/SKIN,/NRG /UNLOCK,/GPS,/ZI,/NOAPTE,/HAPPY,/CREDITS,/DANCE,/PEE,/RACE
/TELES,/SIT,/PARA,/SAD,/TUNE,/GROV,/LS,/SF,/LV,/CIRCUIT /LSAIR,/SFAIR,/LVAIR,/CHILLIAD,/DRIFT,/DRAG,/DM1,/DM2,/CABANA,/TUBE /LIVADA,/PIMPS/PLAJA,/ANIMLIST,/UP,/TOW,/BEER,/PARTY,/PARTY2 /STYLES,/GIVECASH,/NRGS,/WAR,/KILL,/HEALME,/COIN,/LSBAR /S,/L,/CAR,/FLIP,/TOW,/COUNT,/SUP,/CULORI,/CONTACT /hold,/mec,/snow,/ns,/incred,/scut,/112,/bancaromana,/iraq,/fun,/laba
/toroman,/sfbar,/givescore,/baza,/DS,/SPRINGTIME,/ACCESORII,/PENIS,/MAZE
/PM,/LASERON,/PISCINA,/JETPACK,/ICELAND,/CAMERA,/PARASUTA,PLAJA2,/NEON
/VCONTROL,/SASNET,/ANIMHELP,/ANIMHELP2,/MB,/SKATEPARK,/JOIN,/SB,DRAG2,/BRB
/KART,/STRAND,/AHOUSE,/BUYSCORE,/AFON,/CRACIUN,/DRIFT2,/STUNT 1-150,/VIPINFO
/ADMININFO,CLAN=/ccmds,/RALLY,/RZA,/CARAVANA,/RAIN,/CS,/DJ,/CUMPARATURI
ETC!!!
WARNING: do not use minigun or rocket, take auto-kick!
Server Location: Brasov in Romania (Europe)
IP SERVER: samp.sasnet.eu
Click AICI pentru a adauga acest super server la favorite!
Server Configuration: Intel Quad Xeon qx6700 oc @ 3,6Ghz , 5 GB Ram , SSD 120GB
Administration:
Owners:
Sasu
Administrators:
SuperFive,Alexutzza,Andrey,Anna,Aoba,CodrutLove,Cosmina,Klaus,
Robertsuperro,Sedat,AlexDivile,Gabytzu,Light,Redroony,Rzv,Lance
Thank you to those of server management STAFF!
Samp hold id objects 0.3x
Toate obiectele noi aparute in sa-mp
Alte obiecte din GTA San Andreas
Obiecte din SA-MP cu imagini ca cele de mai sus
OTHER DOWNLOADS:
uTorrent (obligatoriu)
GTA San Andreas Simplu (obligatoriu)
SA-MP 0.3z Client (obligatoriu)
Crack GTA San Andreas (daca nu intra in joc)
CUMPARATURI:
1) 2 Masini personale la casa = 2 euro (sms,cod reincarcare,paypal,card,paysafecard)
2) Casa personalizata pana la 100 obiecte = 5 euro (sms,cod reincarcare,paypal,card,paysafecard)
3) Insula personalizata + casa+masina = 7 euro (sms,cod reincarcare,paypal,card,paysafecard)
4) Baza de gang personalizata pana la 300 obiecte oriunde pe harta = 10 euro (sms,cod reincarcare,paypal,card,paysafecard)
5) Unban rapid in maxim 30 minute,2 euro sau gratuit urmand cererea de unban in maxim 90 zile!
6) Admin pe serverul nostru de la level 1 pana la level 5. Preturi mai jos:
Level 1 Ocazional Admin = 2 euro
Level 2 Moderator = 4 euro
Level 3 Administrator = 7 euro
Level 4 Co-Owner = 9 euro
Level 5 Owner = 15 euro
7) 15.000 kills = 2 euro
8) $999.999.999 cash = 2 euro
9) Remove Suspend = 3 euro
10) Interior casa nou = 3 euro
11) Level up de la 1 pana la 3 = 2 euro 12) Level up de la 3 pana la 5 = 3 euro
NOU! Acceptam donatii si prin PAYSAFECARD (cumparati cod din orice magazin mare)
Id-ul unic unde se fac donatii este SAS.SAMP ,nu platiti la alte iduri,sau iduri asemanatoare deoarece sunt false!
Yahoo/Skype id: sas.samp
For suggestions or donations (admin) please contact us, leave us a comment below
We accept donations by SMS, PayPal and bank card!
Contact: sas.samp@yahoo.com
 SasNet își rezervă dreptul de a elimina orice admin de pe server, fără preaviz, în cazul în care un admin a încălcat o regula.
SasNet reserves the right to remove any admin on the server without notice, if that admin violated the rule.
First offense is taken two days suspended, suspend A2A deviation 5 days 10 days A3a misconduct and suspend suspend offense last forever.
These rules are subject to change without notice, depending on the seriousness of the offense.
WARNING: These payments are considered donations to Romania Zone Accelerate server! Are not required to pay taxes or other for these donations. All the money help Romania Zone Accelerate the server is open 24/7.
All access logs of this site / server are deleted every 24ore.In cazult the state represent an organization, please do not bother us with requests for access logs or other information of the users.
That said, we can not be held responsible!
Intrebari generale:
1)Cum instalez jocul?
Jocul intai se descarca de mai sus unde scrie descarcati jocul cu verde apoi se dezarhiveaza cu winrar si instalati SAMP CLICK apoi rulati samp.exe si adaugati la favorite SAMP.SASNET.EU
2)Am intrat in joc dar nu vad pe nimeni si nu pot sa ma joc,ce fac ?
Fiti sigur ca aveti o conexiune la internet buna,dezactivati firewall-ul si stergeti antivirusul,daca problema persista posibil sa aveti router si trbuie sa faceti port forward pe urmatorul port: 7777 !
3) Trebuie sa platesc ceva ca sa ma joc zilnic?
NU,Sasnet nu percepe si nu va percepe nici-o data nici-un fel de taxa! Doar daca donati voi de buna voie pentru mentinerea serverelor sasnet!
General Questions:
1) How do I install the game?
First game is discharged above where it says download game green then unzip with winrar and then run the install SAMP CLICK samp.exe and add to favorites SAMP.SASNET.EU
2) We entered the game but do not see anybody and I can not play, what?
Make sure you have a good internet connection, disable firewall and antivirus remove, if the problem persists you may have to do Trbuse router and port forward the following port: 7777!
3) I have to pay something to play every day?
NO, Sasnet not charge and will not charge any one time no one way fee! Only if you willingly donated to maintain server sasnet!
Model Request UNBAN (make account and write in comments)
Real Name?:
Name the game?:
IP?: (Your IP, not the server, you can find it here: www.ip.sasnet.eu)
Age?:
Why did you ban?:
May once wrong?:
All rights reserved 2012 @ SasNet Inc.
Powered by:
Do you have something to tell us? Then make an account
AICI
and leave us a comment!